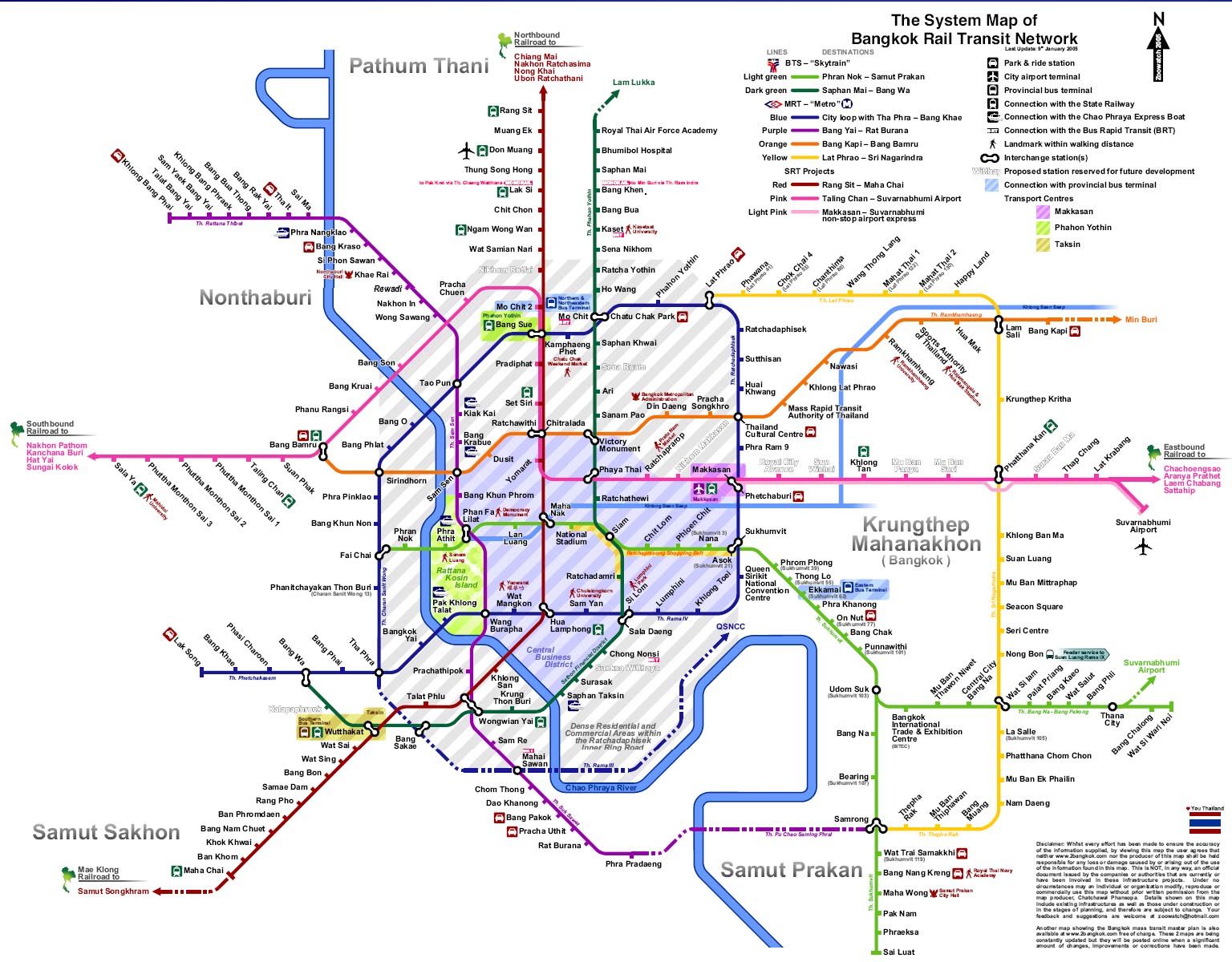 Once you look past the seemingly indecipherable timetables and routes, and after you take a deep breath and plunge into what seem like unbearably busy and bustling bus and train stations, Thailand is, as it turns out, is really easy to get around.

Everything is geared up for visitors. If you want to go somewhere, chances are, there's a service to take you there and they'll make it as simple for you as possible. From combined bus and boat tickets to get you to your favourite island, to minivans waiting at the airport to whisk you into the city, you've no cause to panic. Here's our lowdown on how to get around Thailand.
Transport Hubs
Almost everything moves in and out of Bangkok, be it train, plane or automobile. Here's where you can find your preferred mode of transport: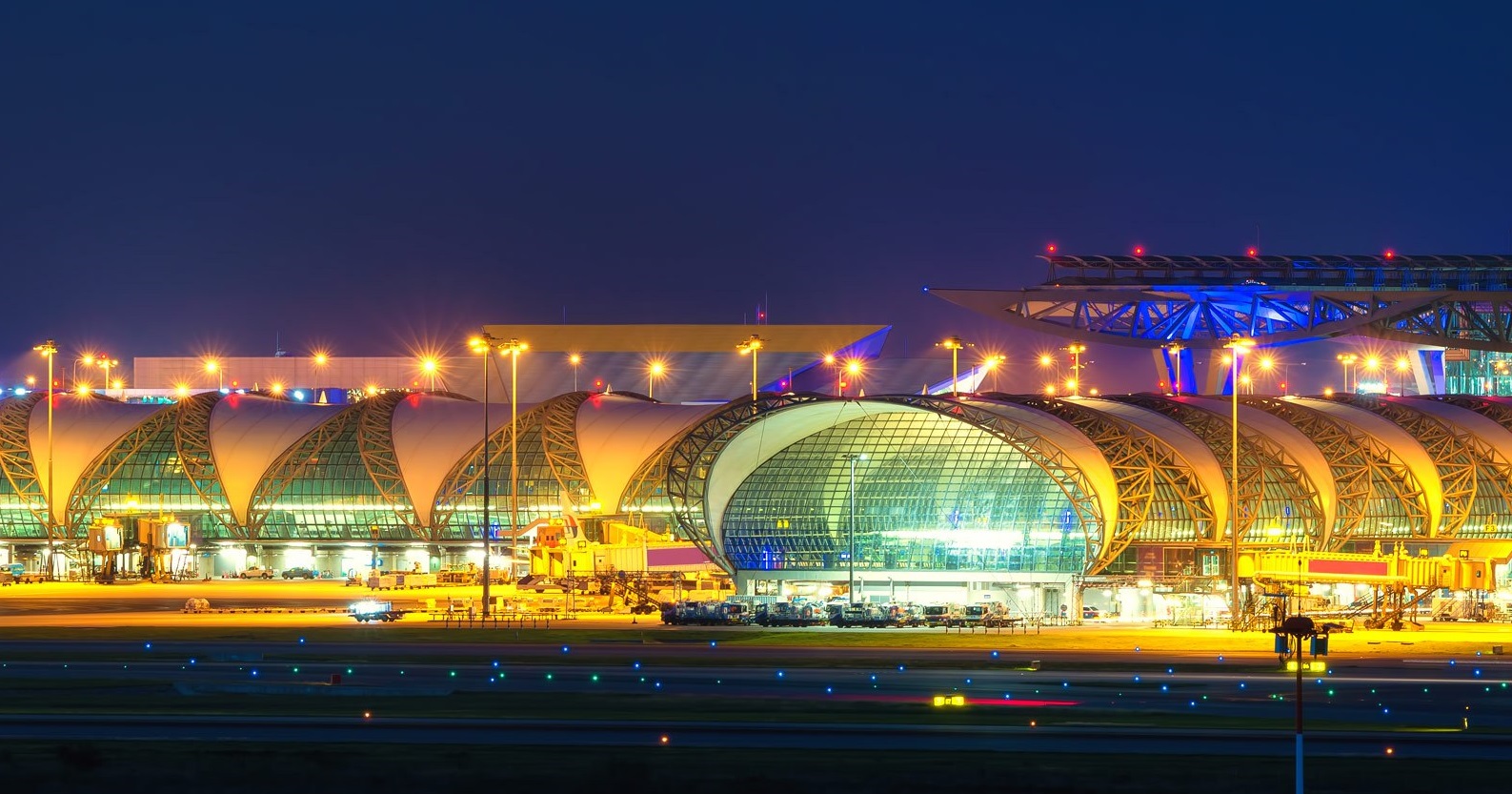 Suvarnabhumi is the international airport where long haul flights and one or two of the fancier short haul operators touch down. Linked to the city by train, it's super easy to get to. Don Mueang is the home of Air Asia and other regional and budget airlines and the best way to make it on time for your flight to Chiang Mai or Phuket is to hop in a taxi or the public bus from Mo Chit BTS station.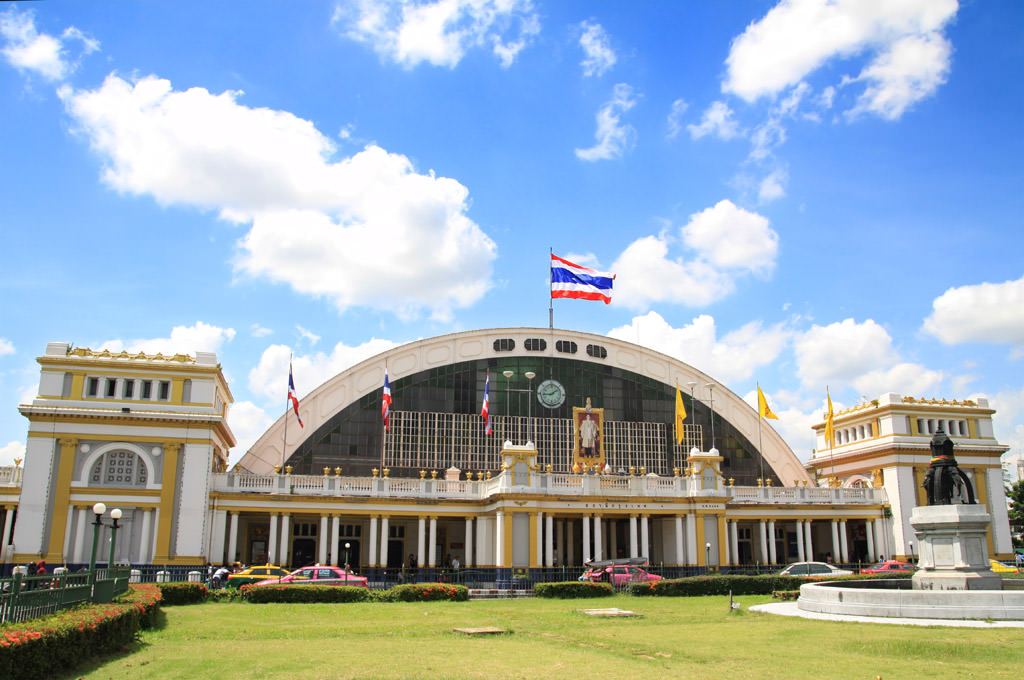 Hua Lamphong is Bangkok's beautiful old train station. Located right next to Chinatown, it's connected to the rest of the city by the underground MRT. From here you can book your bunk on an overnight sleeper train up north or down south.

Bangkok Eastern Bus Terminal is the departure point for buses to destinations all over the country, but particularly to the south east. Hop off the BTS at Ekkamai and in 5 minutes you can be buying your ticket to Pattaya.

Victory Monument is a hub for minivans to every conceivable destination. A little trickier to navigate, you need to alight from the BTS, follow the skywalk to the monument itself and take the steps down to the covered market on the left hand side where you'll find a line of desks acting as mini tour operators. It's best just to tell someone your destination and they'll point you in the right direction.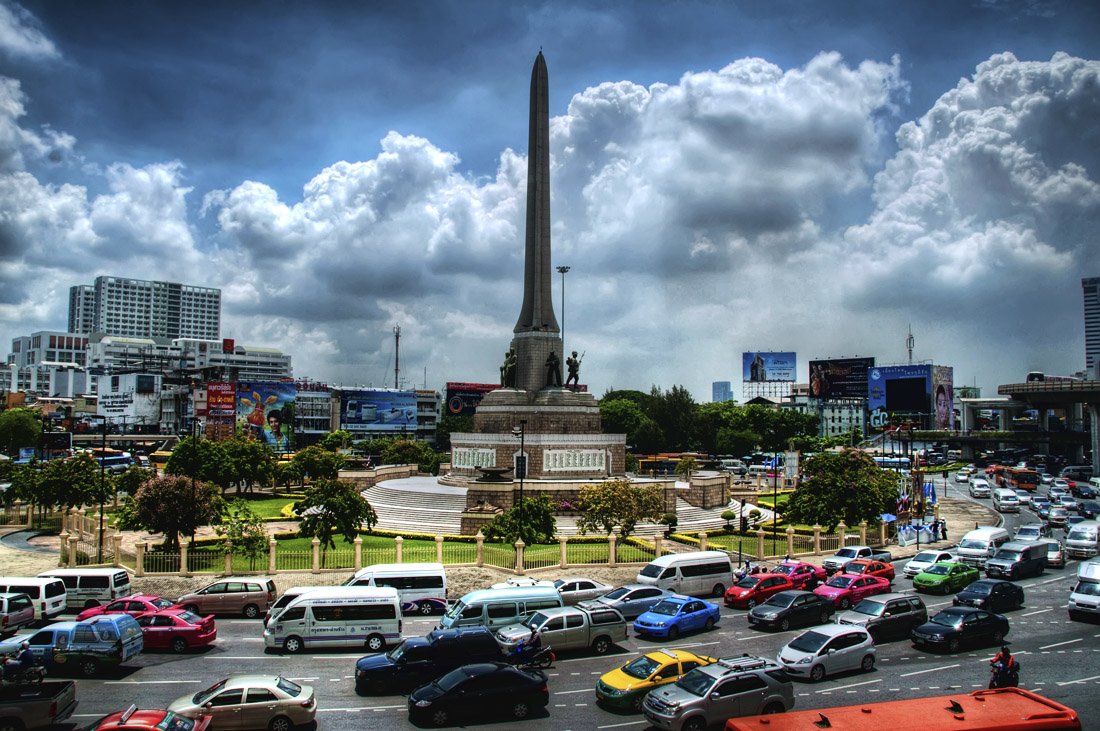 Travelling Across The Country

By plane is usually the quickest and most familiar way to get from A to B. The myriad low cost airlines offer a very reasonable solution and while they may not be terribly comfortable, the flights are relatively short. Notably though, Bangkok Airways offers a much more elegant way to fly, with private lounges in both Suvarnabhumi and Samui and an in-flight meal included.

By bus or minivan: the debate rages on over which of these options is better and, with comparable prices, it comes down to this: the nippy little minivans are faster, while the buses with their reclining seats and luggage storage are more comfortable.

By train is the way to go for a taste of the romantic, slow life. With a choice of first-class air-conditioned cabins, second class bunks and third class seats, they combine reasonable prices with relative comfort for travelling over the mainland at a stately pace. They're no good if you're trying to get onto an island though, which brings us to…

Boats and ferries - for most popular island destinations, you'll find a couple of seafaring options when you arrive at the pier. The ferries tend to be slower and stop only at one pier, but they'll be much cheaper than the speed boats, which will most likely drop you at your beach of choice, at a James Bond-style pace, but for a price.
Getting Around The Islands
Once you're off the mainland, the taxis morph into songteaws, which are like elongated tuk tuks with two benches in the back. It's a good way to rumble around, especially if you have luggage, but the best way to explore an island is on a moped. You'll find they're easy to hire and great for the smaller roads. Don't forget to wear a helmet and ensure you have a valid drivers license and insurance!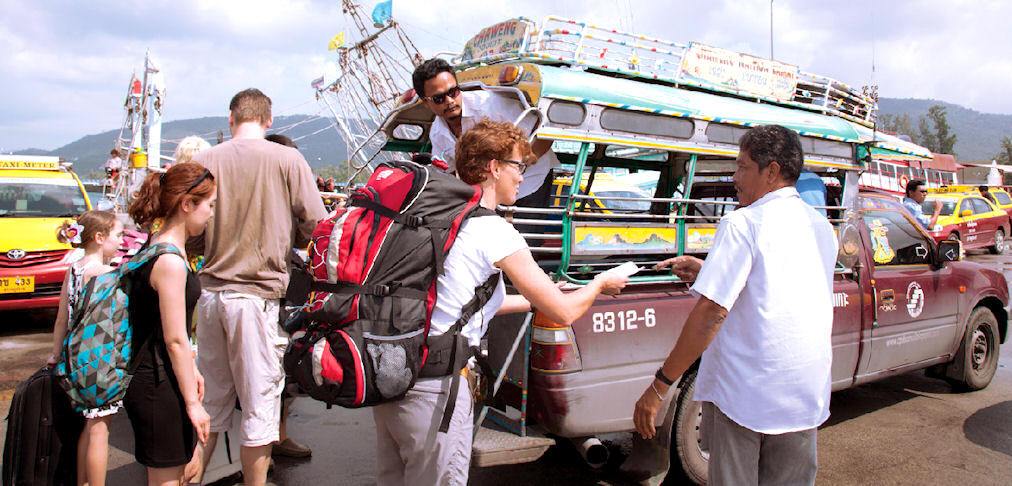 Getting Around The City
Bangkok is a busy, bustling city and its infrastructure is increasingly comprehensive, which is a relief, because the traffic can be unbearable.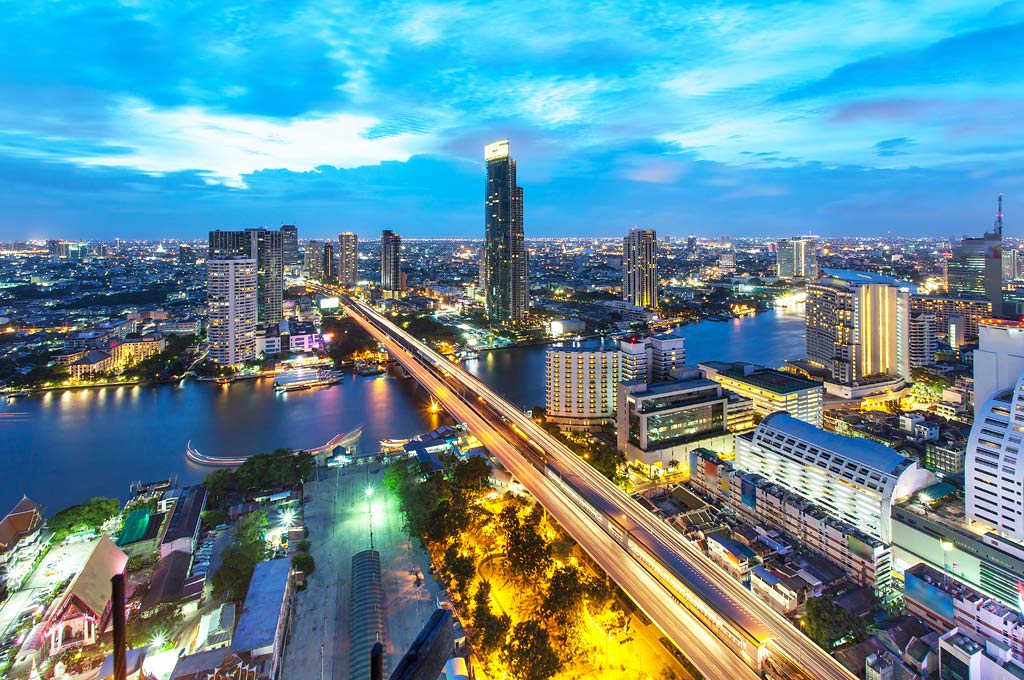 Rise above it all on the BTS (skytrain) and travel from east to west and north to south, through Bangkok's most popular, inner city neighbourhoods, in air-conditioned and spotlessly clean comfort.

Intersecting with the skytrain is the subway, or MRT, which will get you to other popular destinations including Sathorn (for the bars), Klongtoei (for the wet market) and Chinatown (for the food) with equal efficiency.

If the traffic is moving, flag down a cab - the ones with a red light on are available. Make sure the driver puts the metre on when you tell them your destination and relax in comfort for a relatively cheap price.

Motorsais - or bike taxis - are an excellent way to weave through the traffic if you're in a rush or your destination isn't in comfortable walking distance from a train station. Look out for the drivers in orange bibs at the designated stands or flag one down and agree on the price before you hop on.

No self-respecting Bangkokian takes a tuk tuk unless they have visitors in town. They are hotter and more expensive than taxis and not as fast as a motor bike. But they can be so much fun if there's a gang of you. Again - agree on the price first.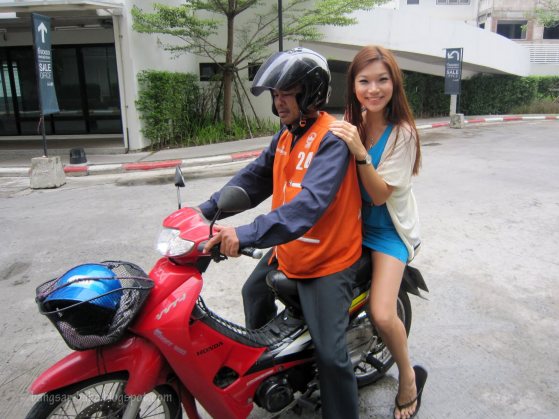 So, are you ready to do some exploring? Hop on board and plunge into amazing Thailand and stay tuned to the blog for more useful information for navigating the land of smiles, with a smile.